Legend of Legaia Seru
Gimard
ギマード, Gimādo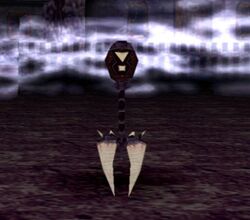 Lv. 1 Stats
HP
MP
ATK
99
20
28
UDF
LDF
INT
24
30
18
| SPD | AGL |
| --- | --- |
| 22 | 60 |
| EXP | G |
| 42 | 18 |
Gimard
ギマード, Gimādo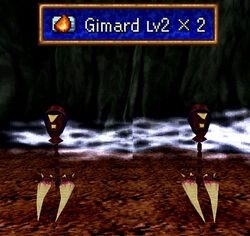 Lv. 2 Stats
HP
MP
ATK
224
60
80
UDF
LDF
INT
74
80
83
| SPD | AGL |
| --- | --- |
| 52 | 64 |
| EXP | G |
| 171 | 48 |
Gimard
ギマード, Gimādo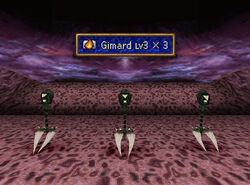 Lv. 3 Stats
HP
MP
ATK
1,242
160
243
UDF
LDF
INT
276
288
201
| SPD | AGL |
| --- | --- |
| 232 | 164 |
| EXP | G |
| 2,700 | 937 |
Gimard (ギマード, Gimādo) is the first Seru monster that appears in Legend of Legaia. It is also the first enemy that is fought by Vahn.
Overview
Edit
Gimard first appears in the introduction when the Mist appears in Conkram. This Seru can be seen attacking a woman in the city.
In Rim Elm, Gimards appear after Juggernaut destroys the wall. One Gimard attacks a woman which prompts Vahn to fight against the Seru in order to save her. After this battle, another Gimard can be seen fighting against Tetsu, and other Gimards surrounding the Genesis Tree.
Even after defeating the Gimards surrounding the Genesis Tree, they will re-appear once the last Gimard is destroyed if the Genesis Tree has not been revived. They also appear in random enemy encounters at this point.
Whether or not Gimard is absorbed, Meta will interrupt Vahn's dream should he rest within Drake Castle and explain to him the special properties of Ra-Seru absorption.
Gimard is one of the weaker sub-species of Seru, though it can still easily kill a normal human. However, the Biron monk Tetsu was able to defeat multiple Gimard and even hold back three at the same time, showing that highly skilled humans are capable of fighting one off. Gimard has control over the element of Fire and can shoot fireballs using its magic. Gimard is also able to attack physically by pecking with its strong beak, smashing with its rock solid head, and slashing with its pincers.
Summon Spell
Edit
Upon being summoned, Gimard will attack with the spell Burning Attack, in which it sets itself on fire and charges into the enemy.
Main article: Burning Attack
Gimard is the first Seru encountered
Gimard makes a cameo appearance in Legaia 2: Duel Saga. It is found motionless in a test tube within the dungeon area of Doplin Castle.
Gimard can only be absorbed by Vahn at the beginning of the game at Level 1, and then can be absorbed by Noa and/or Gala at Level 2.