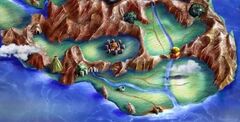 Drake Kingdom (ドルク王領, Doruku Ou Ryou, lit. "Dolk Kingdom") is a location in Legend of Legaia. It is one of Legaia's three continents. It is ruled by King Drake from Drake Castle in the far west of the Kingdom. Within the kingdom there are two other places where humans reside as well as many places of interest.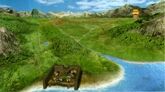 Drake Kingdom is the least populated and least technologically advanced continent of Legaia, however the continent is filled with abundant resources ideal for hunting and harvesting. Many mountains, forests and rivers are located in Drake Kingdom.
In the southeast along the coastline, lies the Village of Rim Elm, which is protected by a large wall. Biron Monastery is wedged in a pass in the east of the Kingdom. About halfway between Rim Elm and Drake Castle lies the Hunter's Spring.
Other LocationsEdit
| | | | | | | |
| --- | --- | --- | --- | --- | --- | --- |
| Monster | Ability | Effect | Exp. | G. | Drop Item | Steal Item |
| Green Slime | Divide | Divide itself in 2 | 33 | 9 | Healing Leaf | Healing Leaf |
| Evil Fly | Phosphor | Venom | 39 | 11 | Antidote | Antidote |
| Gobu Gobu | Steal | Steal 1 Item | 36 | 13 | Healing Leaf | Healing Flower |
| Frog | Flip Frog, Poisonous Tongue | Venom | 122 | 30 | Antidote | Antidote |
| Ostrich | Beak Slam | None | 136 | 45 | Healing Leaf | Healing Leaf |
| Lippian | Kiss of Death | Numb | 128 | 35 | Medicine | Lippian Flute |
| Twin Tomb | None | None | 207 | 50 | Healing Bloom | Healing Leaf |
| Hornet | Poisonous Sting | Venom | 198 | 22 | Antidote | Antidote |
| Gomboo | Steal | Steal 1 Item | 192 | 55 | Healing Leaf | Healing Leaf |